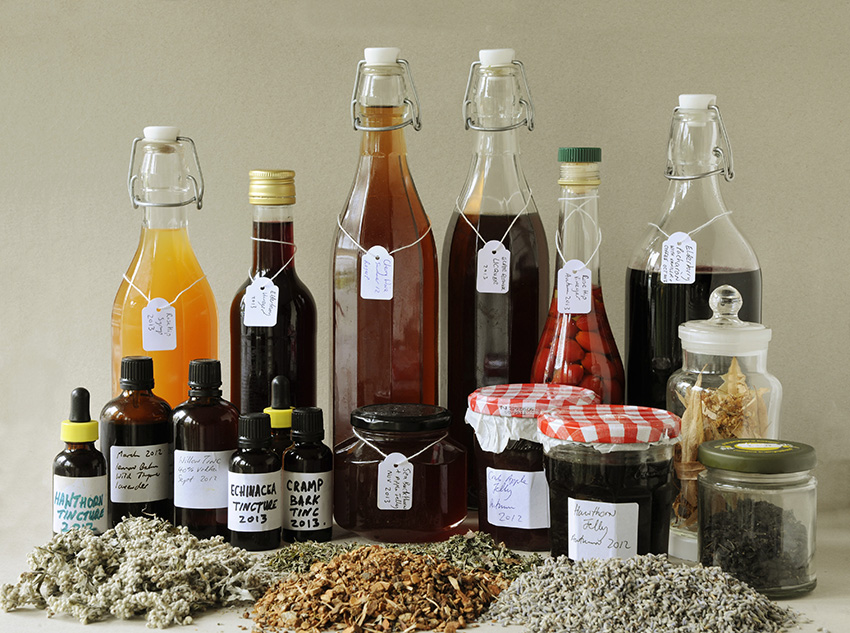 It's all my fault and I'm genuinely sorry….In my last blog I wrote about how warm it was, like Spring Time in November I said, and almost the second I published my monthly ramblings, the weather turned and the forecasters announced that we are looking at the worst winter since Woolly Mammoths where a common site on Hampstead Heath. So, by way of apology and in preparation for what may be a rather long and cold winter, I would like to offer some suggestions for staying well, combating colds and flus, taking on board vast amounts of immune boosters and getting thoroughly drunk in the process. Winter offers numerous foraging opportunities, a topic I will definitely be looking at in more detail as the season progresses (and one which is very varied in a city like London), but for now I'd like to look at a some ideas for the sort of day when leaving the house for more than a quick dash to the shops seems like too much of a commitment.
Even in a world dominated by giant pharmaceutical companies, a massive 70% of the planet's medicines are still completely herbal, the other 30% being based on plant chemistry or synthesised versions of drugs already found in nature….so why not get involved and make a few simple home medicines ourselves? It also pays to look more at food as medicine as well as just sustenance; our diet always adjusts as the temperature drops and below are a few tasty, healthy (mostly) winter treats and necessities that can be made easily with or without wild ingredients, including a soup so full of spice that it will chase the devil from your house, let alone a winter sniffle. In my next blog I'll included a few thoughts on keeping the brain sharp and ready for the following year; I'm always looking for new ideas but constantly battling to find the chance to put them into practice, so I hope the upside of a downturn in the weather will be more time to experiment, study and keep the mind and body in good shape at the same time. And so, first on the list, Satan's own chilli soup…………..
1. Cold Crushing Super Soup.
It was nutritionalist supremo, Lorna Driver-Davies who first introduced me to this soup . No cold can stand in its way and if prepared properly it should be more pain than pleasure. I make the "base" ingredients of mine into frozen cubes to use quickly when I really need it. Stuffed to the gills with immune boosting Turmeric, natural expectorant Garlic and blood purifying Chilli, it works best when shouting "OUT DEMONS OUT" between mouthfuls : not compulsory but it can help distract you from the other effects. I don't usually do "health and safety" but this soup is probably not for anyone with a dodgy ticker. And the recipe….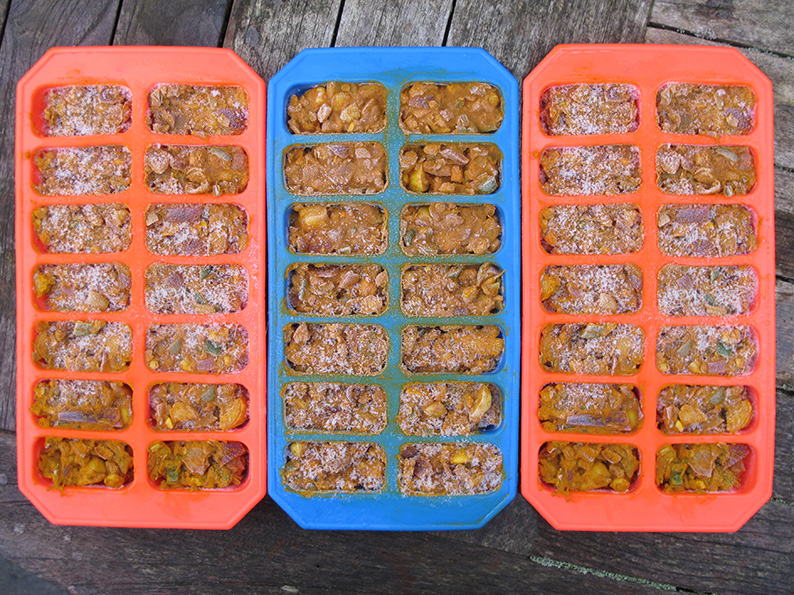 Fry copious amounts ( just keep chopping til you can't chop anymore) of garlic, chilli, ginger and turmeric root (powder is fine), then add masses of cayenne and black pepper, a bit of stock, Soy sauce and tomato puree….the end result is a hugely over spiced thick soup…don't use too much water, you want to get this inside you as quickly as possible and if it's almost too horrid to eat you have done well…mix it with a bit of tinned soup to make it more bearable if you must or use as a base for a less powerful version.
2. Tinctures and other home remedies.
I am not a trained herbalist, not a trained anything to be honest, but I do make a few easy home remedies and health enhancing "medicines" which I find not only useful to have around but extremely rewarding to create. It's so empowering to not only deal with your own ailments but to do it with plants you have foraged (or sometimes bought) and then prepared. My approach is to keep things simple; a Hawthorn tincture to boost my circulation and help with my cold feet, a Willow bark tincture for colds, joint pains and hangovers, Echinacea tincture to strengthen my immune system, Yarrow and Mint tea for just about everything, and so on. I won't go into lots of detail here but if any of this appeals to you then I suggest buying an easy herbal remedies book such as Wild Drugs by Zoe Hawes or 100 Great Natural Remedies by Penelope Ody, both of which not only look at how to make simple, safe, home treatments but also how to look more at food as medicine and vice versa. Modern pharmacology often seems to have written, or rewritten the book on what we should ingest when we are ill but so much of our current thinking is just a regurgitation of old knowledge…my favourite example of this is Willow bark. The Salicylic acid it contains, was patented as Asprin in 1900 by The Bayer Drug Company. They only missed the boat by 2300 years; Hippocrates, the father of modern medicine was successfully recommending Willow bark for joint pain, headaches and general health a good few hundred years before the birth of Christ.
3. Homemade Nut Milks and Hot Chocolate with Chilli and Cayenne Pepper.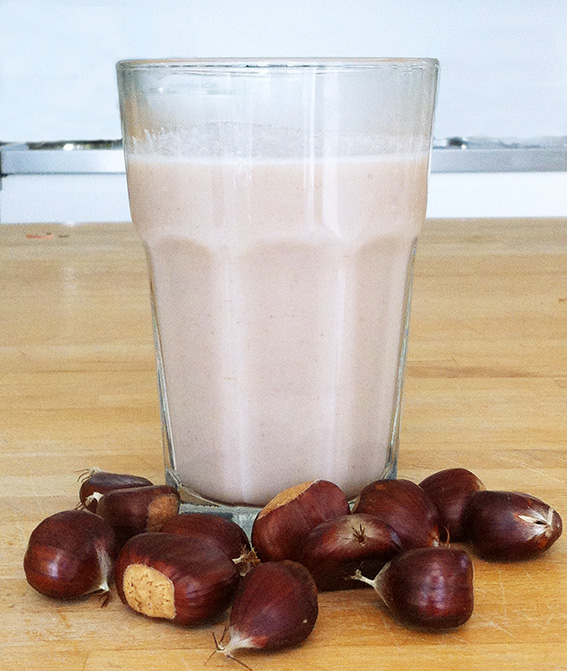 Never have I seen such a wonderful crop of "home grown" sweet Chestnuts as this year. A winter favourite, the obvious accompaniment to festive Brussels sprouts and just great for cooking on an open fire ( just like the song says ), but for the first time ever I decided to make a nut milk using them. How? Dead easy! I halved 20-30 Sweet Chestnuts, still in their shells, and added them to about three times the volume of boiling water for 2-3 minutes ( longer for the big shop bought jobs but they still need a bit of firmness or they will just crumble when you peel them). Once cooled, I shelled them and then put the nuts and the water into a blender for a good whizzing. That was it. The resulting slightly thick milk could easily have been stained through muslin or thinned more but I was quite happy with it a tad sludgy, especially for making thick, sweet hot chocolate into which went a pinch of Chilli powder and a pinch of Cayenne. These really give the drink a lift and bring out all the flavour. If you can't get Sweet Chestnuts then try making other milks, Almonds, Cashews, Hazel nuts, basically whatever you can find. So simple, so delicious, so get on with it.
4. Experiments with Alcohol. My take on the Basque liqueur Pacharan.
I hardly found a single Sloe this Autumn and as a result I adapted this recipe using Elder Berries, of which there were, quite literally, tons this year. When it comes to making booze based concoctions, I am anything but a purist, far from it in fact, and as a result I like to mix and match ingredients, adjust quantities and generally muck about with the process in the hope of making something interesting, drinkable and all too often, unrepeatable. The original, and far more authentic version of this delicious traditional drink came from this lovely blog by Wildcraftvita.
https://wildcraftvita.blogspot.it/2012/10/sloe-ginbargnolino-pacharan-prunus.html
I made a few changes, as well as using different berries I also used half Vodka to half Pernod (it was cheaper that way), swapped the suggested Chamomile for a big stick of Vanilla root and added more coffee beans than recommended. Sometime you just have to go with what you feel and also what springs to hand when your in the mood to make something. If you fancy doing some simple booze based experiments to produce an interesting festive drink or two, take a look at Andy Hamilton's excellent Booze For Free, which contains hundred of ideas to keep you busy. There is always something wild or non wild about that will benefit from a good few weeks submersion in alcohol.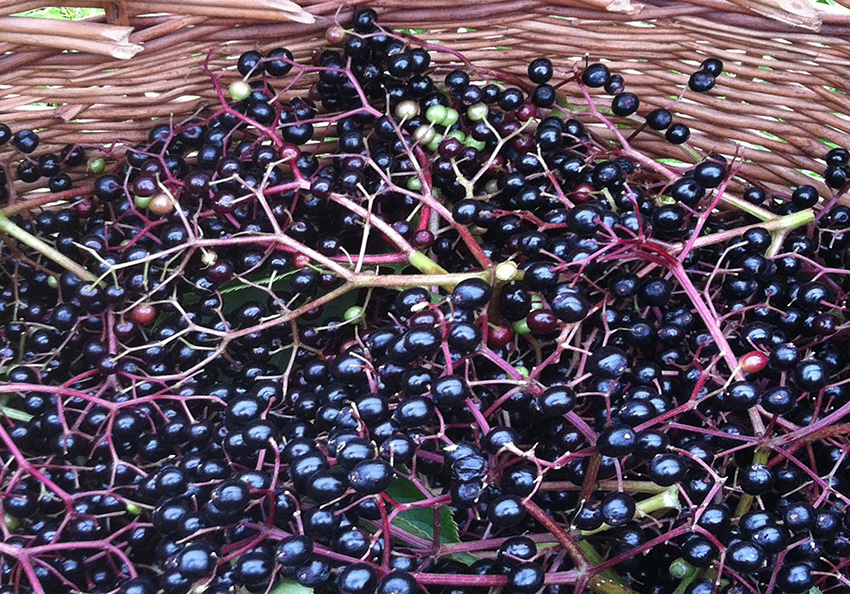 5. Elder, Rose and other fruits and berries.
I have discussed the virtues of these in numerous other posts, see the link below, so I will just say, during winter time, the more wild and not so wild berries you can eat the better. To quickly mention just 3, Elder contains natural anti viral agents proven to help prevent flu, Rose hips are full (quite literally) of Vitamin C and anti oxidants (which combat free radicals and in turn help fight viruses and infections) and Blue Berries are a genuine "super food" containing a huge range of micronutrients (trace minerals) as well as copious amounts of Vitamin C, Vitamin K, Manganese and anti oxidants. They help lower cholesterol and blood sugar too. It's too late to pick any of these but well worth stocking up next year and having a freezer full to make cordials, vinegars and juices with and for now, buy whatever you can find in your local shops and adapt any of the recipes in this link.
https://www.foragelondon.co.uk/bloody-brilliant-berries-ridiculously-tasty-recipes-ideas/
TO COME IN PART 2.
John's Hardcore Winter Chutney : I finally go public with my secret recipe.
Wonderful Winter Chanterelle : Chef Rob's Japanese style fungi pickle.
Weird Winter Foraging : Strange stuff that's only about when it's really cold.
Recommended Reading : Sharpening the brain and preparing for next year.
Jams, Jellies and Cordials : Things to do indoors on a freezing cold day.
Other stuff : That I haven't thought of yet but will do soon.