John Rensten.

John Rensten (that's me) lived and worked and foraged in London for 20 years before finally escaping to Dorset, via Hampshire, in 2016 to concentrate on my mushroom hunting and coastal foraging. Despite now living in a more rural part of the county, I still run and organise numerous urban foraging events, wild food walks and mushroom forays, some hosted by myself and some other very wonderful and extremely knowledgable people that I have "collected" along the way.
In 2004, with a good friend, I opened a successful gastro pub, The Green, in Clerkenwell EC1 and soon found that I could combine my love of foraging wild food with my enthusiasm for running a busy eatery. Actually it was the perfect excuse to get me away from the hectic side of the business and get some more peaceful time in the woods foraging for wild mushrooms or by the coast collecting seaweeds and wild plants. We started to add various foraged foods to the menu. Initially I picked lots of delicious wild edible mushrooms, my hobby for a few years previously, also plants like wild garlic and sorrel that I gathered each Easter in Devon and our chef used to make wild garlic mash or garlic and sorrel soup. Sea-beet from Dorset was always popular too and soon we had the menu dotted with wild foraged treats, wild fennel, rose hips, elderberries, samphire, borage, mallow and various seaweeds.
I don't have the pub anymore but since then, and on a daily basis, I study wild food, pick wild food, obsess about wild food and love sharing what I have leant, running city foraging walks and taking groups mushroom hunting in The New Forest or combing the seashore in Dorset.
I've set up Forage London to give city dwellers like myself a chance to enjoy and discover some of the amazing wild foods that grow all around us. I hope you enjoy this site and that you come on one of my walks soon.
James Grant.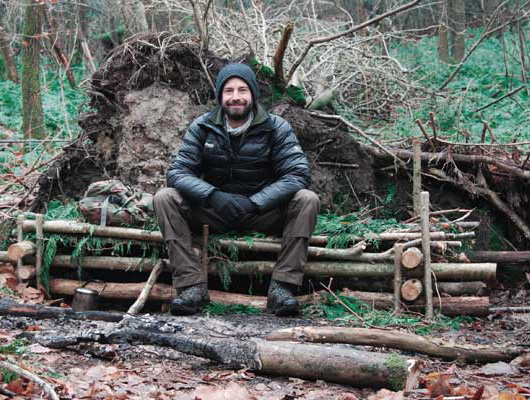 Qualified bush craft instructor James Grant runs regular events for Forage London. James was first inspired by wild food at the age of 6 by his great-grandmother taking him out to pick blackberries, sloes and field mushrooms. Around the same age, he also went fishing for the first time, a pursuit he has never tired of and his love for outdoor activity was born. With careers in design and the music business behind him, James now teaches foraging and bush craft skills full time. He see's foraging as the widest reaching skill within the field of bush craft whether utilised to procure wild food, materials for craft and shelter, camp apparatus or to spot signs of animals. Fungi are an obsession of James' and he entered into teaching as an assistant with Ashdown Forage and Truffle and Mushroom Hunter before setting up on his own. In 2015 James was part of a group of professional foraging teachers who founded the Association of Foragers – an international professional foragers association, promoting sustainability and ecological stewardship through the teaching and harvesting of wild plants and fungi for use as food, drink and medicine. James is also a member of the British Mycological Society, The Coracle Builders Association, holds a level 4 Bushcraft Leader certificate.
Ken Greenway.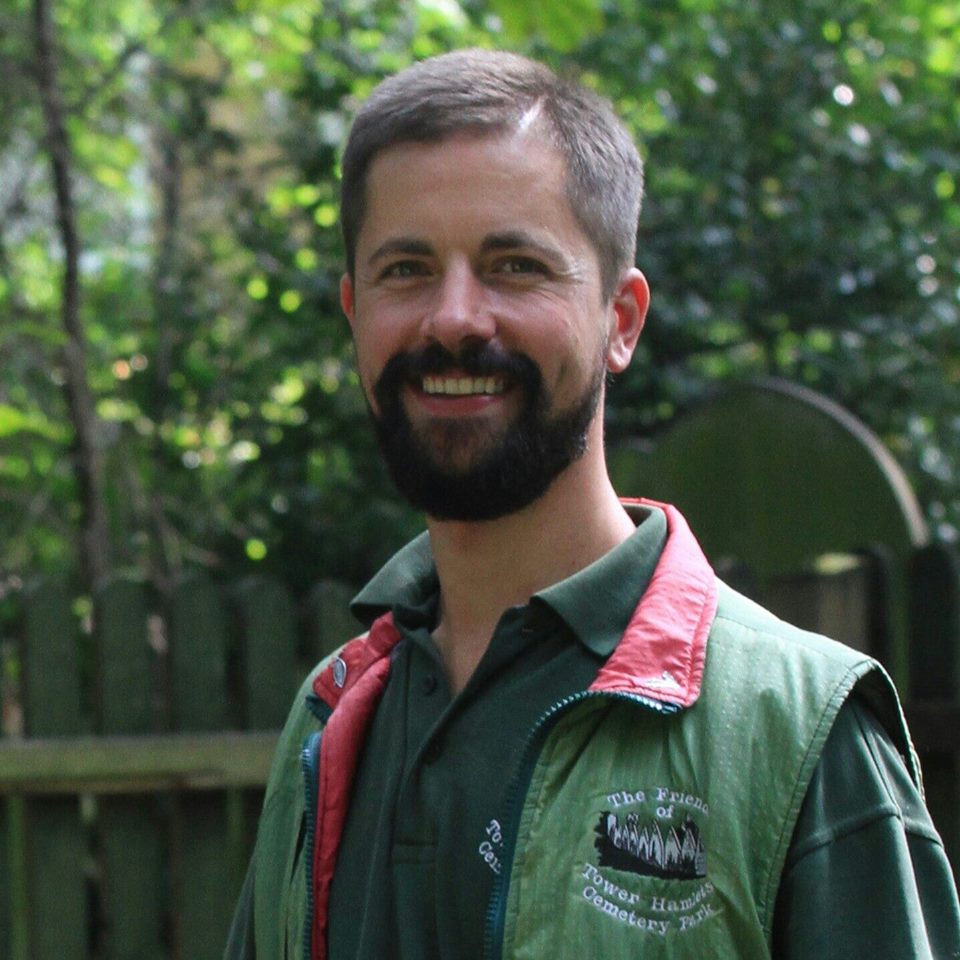 Come Dine with Me winner, Kenneth (Ken) Greenway not only has a smashing beard, he is a man of numerous talents and multiple jobs. Not only does he work as the Manager of Tower Hamlets Cemetry Park (THCP), one of London's most amazing nature reserves, he is also an accredited Humanist celebrant, Horticulture Manager for Grounded Ecotherapy and the course leader on Forage London's fabulous event 'Wild Food, Wild Nature'. Ken studied Environmental Biology at the University of Greenwich and has worked at THCP since 2002 where he has developed his intimate knowledge of the site as well as his passion for wild food and foraging. THCP nature reserve is one of London's magnificent seven Victorian cemeteries, with an extraordinary diversity of both woodland and meadow plants, closed to burials since 1966 and a designated public park and Local Nature Reserve a short walk from Mile End Tube Station in E3.
Kim Walker & Vicky Chown.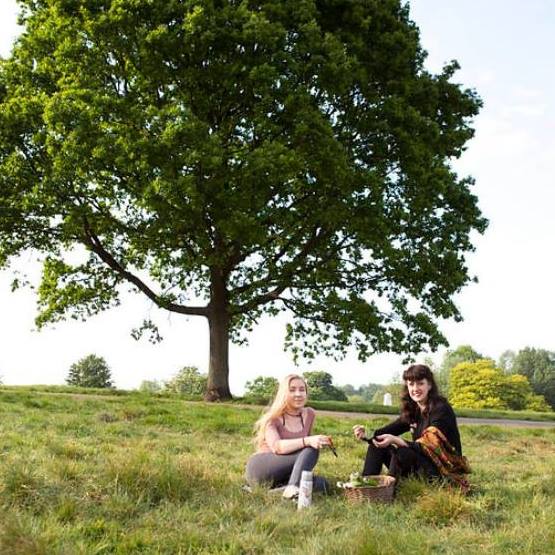 Kim Walker & Vicky Chown met whilst studying Herbal Medicine at the University of Westminster, became friends and set up Handmade Apothecary as a way to share herbal medicine with local communities. They now work from their own narrow boat, travelling across London and beyond, using the plants they find along the way to create healing remedies & recipes.
Yorkshire born, Kim was brought up in the wild and beautiful West coast of Scotland in an ancient woodland where her love of plants was first nurtured. Kim went on to study a BSc & MSc in Herbal medicine research to pursue the love of both history and science. She is now a doctoral student in the history of medicine field in the Economic Botany Collection at the Royal Botanic Gardens, Kew. She is also on the committee of the Herbal History Research Network, the British Society for the History of Pharmacy and is a member of the Association of Foragers. Vicky was born and raised in London. She had a calling to study nature from a young age and didn't let city living get in the way. She began foraging and growing food and medicine as a teenager in any green space she could find – local parks, wastelands, window boxes and back gardens. Her passion for herbs led her to work for Neal's Yard Remedies for 7 years where she developed her extensive knowledge of herbal remedies and natural skin care. This led to teaching foraging and herbal remedy making and working on her own allotment and in an organic permaculture garden where she now grows many of the plants that are used for Handmade Apothecary, food for the Queen's Wood Cafe, Highgate and oversees a community of volunteers. Vicky also sees patients for herbal medicine consultations.
Peter Studzinski.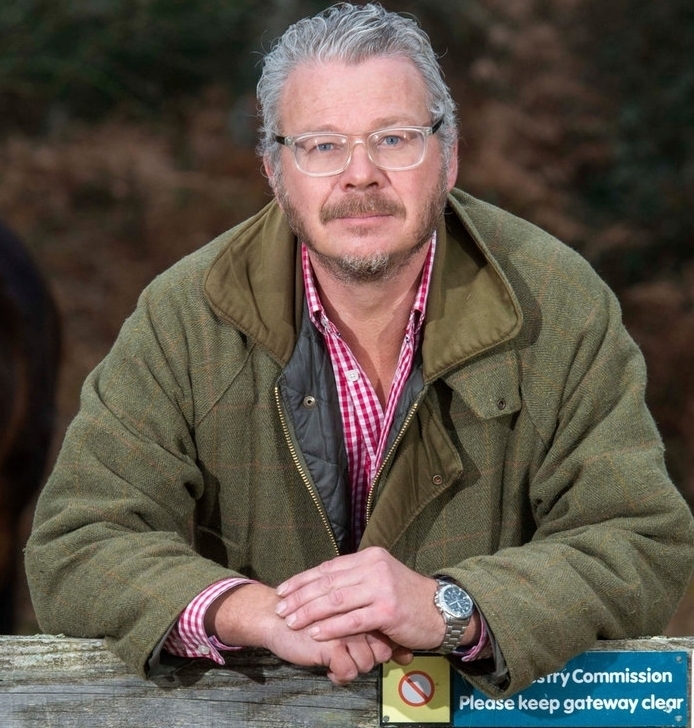 Peter lives in Hampshire, close to The New Forest. He is passionate about the outdoors and nature and with a Polish father, foraging and wild food were very much part of his upbringing. Peter spent 25 years working at Oxford and then Southampton University but always kept alive his interest in all things wild, more recently on his daily woodland walks with his two energetic Labradors. Deciding to concentrate his efforts on foraging and giving up academia nearly a decade ago, he now finds himself very much in demand as a wild food advisor and supplier to some of the country's top Michelin starred chefs. In the autumn, Peter runs a series of fungi forays for Forage London, exploring the woodland and sharing his knowledge of the new forest and it's numerous edible mushrooms coming from over 30 years of mushroom hunting in the area.
Martin Bailey.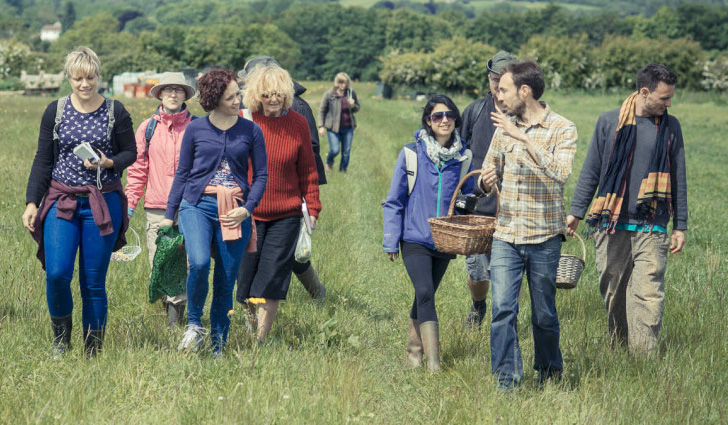 Life long forager Martin Bailey lives in Bristol and has been teaching foraging for the last 5 years. As a child he would patrol the hedgerows and woodland in search of adventure. "I remember the joy of finding Wild Asparagus dotted along the country lanes, plucking Giant Puffballs to take home for my mum to cook and spending hours hollowing out underground dens – the smell of the soil is still so evocative for me today. In my early twenties I moved to Bristol and met other people who shared my passion for wild food. A few years later I started supplying foraged foods to local restaurants and generating a bit of income from my foraging. It was wonderful to see food I had picked transformed, through the skill and creativity of gifted chefs into gourmet meals. I also began practising Zhan Zhuang Chi Kung; Standing Like a Tree – you may want to look that one up! This experience has given me an increased awareness of subtle changes in the environment; a vital attribute for any forager. My journey with wild food has led me to all kinds of interesting places, as well as people and I find it hugely rewarding to teach and to share my experiences and love for foraging with others."
The Edible City : a year of wild food.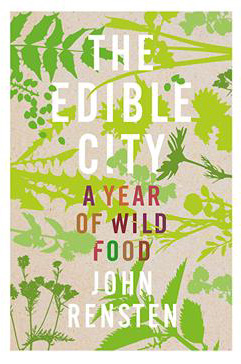 So, while you're here….You might like to read the introduction to my book, The Edible City – a year of wild food, which explains a lot of the reasons that I became obsessed and why I think that now, more than ever, this is a very relevant activity for anyone living in a city.
Introduction.
I can think of nothing more fulfilling than cooking with food that I have foraged. To feed yourself and those you care about with ingredients
sourced by your own hands is to rekindle a relationship with nature,
and the simple act of gathering our own food is the way man has existed
for the majority of time on this planet. Although this isn't an activity
that most people associate with living in a twenty-first-century city, I'm
sure this book will change the way you look at where you live and allow
you to share in some of the wonderful edible experiences that the city
has to offer.
It was almost two decades ago that I was properly bitten by the
foraging bug, and since then not a day goes by that I don't pick wild
food, study wild food and generally obsess about all things related to
wild food. I love sharing what I've learnt, running urban foraging walks,
taking groups mushroom hunting in the countryside or combing the
seashore. For eight years I ran a busy restaurant and revelled in the task
of sourcing wild ingredients from outside the city to add to the menu.
Eventually I realized that my greatest foraging pleasures were to be found
far closer to home and turned my focus onto the place in which I lived.
Don't be concerned if the idea of eating foraged food in the city feels
unsettling at first (take a look at the section on page 261 where we go
through all the dos and don'ts, common-sense rules, safety, hygiene and
legality to put your mind at rest). I'm certainly not advocating that you
only eat foraged foods – even I don't have time for a totally wild diet. I
fit the majority of my foraging into short bursts, shoehorned in between
working and looking after my young son. Rather, I want you to see how
foraged foods can make an incredible addition to the sorts of meals you
are already cooking and eating.
More than simply the good eating it affords, putting on your foraging
goggles will transform your city surroundings, from somewhere to
be hurried through, to a place to be lingered over. Where previously
you'd notice a patch of stinging nettles to sidestep, I want you to see
the opportunity to make delicious wild tempura; rather than avoiding
that tree that drops annoyingly sticky petals on your car, I hope you'll
spot the chance to make a spring blossom champagne. And that clump
of weeds – it doesn't need clearing, but rather identifying and then
incorporating into some wild spring rolls or sushi.
Time spent foraging is as relaxing as it is absorbing; like taking a deep
breath, it can bring a feeling of calm to an otherwise frenetic city. Simply
walking from my house to the nearest station has become a voyage of
discovery, a multi-sensory experience and a treasure hunt, during which I
find myself smiling rather a lot.
The standard definition of foraging is this: 'the act of looking or
searching for food or provisions'. The basics are simple and easy to learn,
with a good sense of smell being more important than the ability to
memorize hundreds of Latin names and complicated plant diagrams.
My approach is to take the tiniest bit of knowledge and put it to
multiple uses; so simply being able to identify a dandelion will provide
countless, year-round foraging opportunities and produce culinary
delights as diverse as a caffeine-free coffee, a mid-summer wine, roasted
winter root vegetables and spring salads, all from just one, very easy to
identify, common as you like, 'weed'.
You can use this book however you prefer; read it from front to back,
all in one go, or dip in sporadically when you have a free moment,
heading for the current month, or just pick an ingredient or recipe at
random and modify it to suit what's in season or whatever you currently
have access to. Necessity is often called the mother of invention, but
availability, for foragers at least, is where the real inspiration lies. The
type of cooking that comes from using foraged ingredients is naturally
creative, inventive and ad hoc. These won't be the kind of recipes where
things are always measured precisely; 'a handful' is often about as
accurate as I get.
There are no real rules, other than avoiding the plants that aren't
edible or for whatever reason are not safe to eat, but with enthusiasm
and some common sense, a magical side of the city and its hidden larder
is waiting to be discovered, probably right on your doorstep. I hope this
book takes you on your own food journey, even if it just means you pay
a bit more attention to the plants in your local park. With a little effort,
it will allow you to begin viewing the city as I do, as a constant source of
wonder, an ongoing education and a provider of almost daily inspiration.
If foraging teaches us anything, it's to enjoy and celebrate what is
available, not to hanker after what is not.
Where to forage.
I live in London and much of the foraging I describe occurs there, but
the majority of the plants I pick are in no way specific to the south-east
or even the UK. Almost all of them are freely available across northern
Europe, actually right across the northern temperate zone, which spans
the globe, taking in countries as diverse as North America and Japan.
Every country has its own common or local names for these plants,
in fact most of them have many variations, so I've supplied the Latin
names, which are always useful to refer back to in case of any confusion
(pages 247–50). Once you start to look, you'll see the real problem is not
finding food to forage for but choosing between so many options. On
a spring walk through the unremarkable city park nearest to my house
I can easily find lemon balm, spearmint, primrose, white nettle, poppy
and yarrow growing at my feet, while above me are avenues of mulberry,
hazel, elder, linden, cherry plum and hawthorn trees. Is my local park
a particularly outstanding place? Well, yes and no. It has all the things
I look for: a mix of well-kept and clean areas, combined with some
intentionally 'wild' patches and a few less-intentional ones, interesting
tree planting and a decent-sized lake, pond or waterway (the border of
which is not overly managed). Basically it ticks all the foraging boxes but
is no different from another hundred city parks I can think of, so for me,
my local park is outstanding, not just for my purposes but for the many
other ways in which it provides for the local and wider community.
From this one square mile of almost central London, I have
identified, collected and eaten nearly 200 different edible plants, many
of them giving me multiple crops spread out across the year.
In this book, I take you in detail through sixty of the most common
and tastiest, but I reference many, many more.
The plants themselves fall into two, totally non-botanical groups.
First, the genuine wild plants, unconcerned with the patchwork of
grey blobs that make up the view of London on Google Earth; they are
opportunistically able to grow anywhere, colonize a patch of turnedover
soil at a moment's notice or barge their way up through cracks in
the pavement. Wild plants don't need looking after, don't need feeding,
pruning, watering or tending to in any way; robust, hardy, militant, were
we to cease to be, I have no doubt that they would reclaim the city at
a startling speed. The second group are the 'unintentionally' edible or
medicinal plants, favoured for planting by both current and Victorian
park and town planners, often forming entire avenues of trees or huge
lines of bushes. The end result of all this intentional planting – coupled
with the prolific growth of wild plants and feral/garden escapees, all
thriving in the microclimate that is Greater London – is a huge area of
natural diversity, as fertile and bountiful as anywhere else in the country.
Once turned on, your 'green vision' will be impossible to turn off;
otherwise neglected street trees will suddenly bear fruit, patches of
previously irrelevant land will become focal points and the city will
reveal a network of free, edible treats, coming and going throughout the
year. Things are never as they seem at the first glance and to really see
what is in front of us, we need to learn how to look and what to look
for. Do this and the buildings, the cars, the streets and the shades of grey
will all fade away to be replaced by a vibrant, fertile landscape, full to the
brim with sweet smells, strong flavours and bright colours.
Why forage?
Why indeed, should we be interested in eating any of these plants,
with so much food available to us in the city? I can think of a hundred
reasons, emotional as well as physical, and most of them will crop
up repeatedly in the pages of this book, but for now, let's just look
at nutrition and a simple, irrefutable statement of fact. Wild food is
superfood. To clarify this it's important to define what's actually meant
by 'superfood', especially as it's one of those popular terms that get
overused by companies trying to market 'healthy' foods. It gives you
some idea of how far the food industry has wandered from the path
these days that the notion of food being good for you is a distinct
selling point, rather than a given. At the same time, 400 generations of
farming and a global obsession with growing and eating grains has left
us with food that travels well, lasts ages, resists bruising, looks amazing
and very often tastes of little to nothing. Since the mid-1950s, when
the responsibility for processing and preparation of the majority of our
food began to move out of the domestic kitchen and into the hands of
big businesses, we have become ever increasingly separated from what
we eat. The points of origin, provenance and methods of creation are
often unknown and the techniques involved in turning the raw produce
of grains, fruits, vegetables and livestock into the meals we ultimately
consume are, to most of us, very mysterious.
Furthermore, the vitamins, minerals, proteins, nutrients, fibre,
antioxidants and thousands of other phyto-nutrients (more about these
later), have been bred out and replaced with our favourite legal high,
sugar, to the point where the vast majority of the fruit and veg available
to us is utterly stuffed with carbs, and not much else. I'm not claiming
this is all the result of a huge global conspiracy – at least it wasn't initially
– it's just that we like sweet things and as a result we have favoured
varieties that give us what we want. I know a respected botanical
nutritionist who describes sweetcorn, a plant, like so many, that bears
utterly no resemblance to its ancestors, as 'Nature's own Mars Bar'. But
then again, we wouldn't want to eat Neolithic sweetcorn, a tough and
stony little thing.
Fortunately, like traditional hunter-gatherers, we can go back to
nature, where all the wonderful nutrition we need is still waiting for us
in abundance and all we have to do is take it. When people talk about
a 'superfood', what they're referring to is anything that is extremely rich
in minerals and vitamins, particularly beneficial to health and which
contains much higher levels of antioxidants and enzymes than other
foods, hence being excellent at supporting digestion, promoting healing,
detoxification and nutrient absorption, aiding fertility and maintaining
general good health. A few of the very common ingredients described
as superfoods that are available in the shops include garlic, blueberries,
rose hips, dark leafy greens, turmeric, cinnamon and flax. These could be
joined by another fifteen to twenty items that are part of our commercial
food chain, but were I to write a list of wild superfoods it would be
pretty much endless. It's not that I'm anti mass-production; when
massive cities have massive appetites, I appreciate that the food has to
come from somewhere, but when over 60 per cent of the world's calories
now come from just four crops (wheat, corn, rice and potatoes) isn't
there room for some more variety in our diets, regardless of the apparent
range of choice available to us in the city? Obviously these are big issues,
where the problems and their solutions are political, and this is a wild
food diary, not a selection of hidden agendas, so I won't be climbing
onto my soap box . . . much.
All wild food, however, is superfood: nettles are over 30 per cent plant
protein and full of iron and calcium; rose hips have, weight for weight,
twenty times the vitamin C of oranges; hazelnuts have five times the
protein of eggs; and just one teaspoon of seeds from ribwort plantain,
probably the most common and widespread plant I know, has as much
fibre as a whole bowl of porridge. I could go on (and on), but none of
this would be of much use to anyone if the wild food we picked and ate
didn't taste great, and it does, it really does. If my years running a busy
London restaurant taught me one thing, it's this: flavour is king, and if
your ingredients already taste wonderful, then simple cooking and good
presentation are really all they need.
How to forage.
'Grazing' is the loose title I have given to what I do in the city; sampling
numerous plants, herbs and other wild foods, but mostly in small
amounts, experiencing new flavours and learning how these change
with the seasons rather than trying to gather armfuls of one plant when
it's at its best or most obvious. The city parks and pretty much all of
our urban green spaces are not common land, but privately owned and
managed areas that we are allowed access to, and, leaving the politics
of land ownership aside, if we want to forage in these areas, we must
respect this, just as we do numerous other guidelines that allow us to
coexist in such close proximity to so many other people. Obviously, it's
up to the individual, but this is my take on how to treat these places,
not to ever take for granted the effort that goes into making them as
wonderful as they are.
On all of the foraging walks I organize, the idea of taking whatever
knowledge we already have, however small, and gradually adding to it
through gentle repetition and multiple encounters with the same plants,
is a recurrent theme, a process as far removed from academic study as I
can make it. Learn just two or three new plants a month, all of which
will have multiple crops and overlapping seasons, and you have access
to nearly a hundred edible wild foods, spread throughout the year. My
strategy is to make a small amount of knowledge yield a big reward.
Through this simple approach I've learnt more about nature, foraging,
botany, nutrition, ecology and numerous other topics from the one
square mile of city greenery that makes up my local park than I have
from the rest of the entire country. And how? Proximity and gentle
repetition, that's how. I find it slightly corny to call foraging an art but it
does take a very specific skill set, best learnt over an extended period of
time, and although later I'll help you learn to identify fifty wild edible
plants in just ten minutes (that's all the UK's wild members of the Mint
family), this knowledge is the culmination of numerous other things,
including many repeated visits to the same places, passing and observing
the same plants in all their different stages of growth, the changes of the
seasons and how these affect what is, and what isn't, available.
Take this approach to learning and I guarantee you will
simultaneously learn how to forage, to become aware of the seasons,
the 'micro-seasons' within them, and to look at the city as a network
of periphery, borders and edges, not just blocks of adjoining land but
overlapping environments that offer increased diversity, fertility and
opportunity. Once we can ID just a small selection of plants and become
familiar with them, their habitats and the visual and physical changes
they undergo throughout the year, we reach a point where the botany
is almost irrelevant and what remains is a form of recognition akin to
spotting a good friend a hundred feet away in a crowd of people.
When we start to investigate the extraordinary array of wild flavours
the city has to offer, it soon becomes apparent that rather than living in
a place where food remains separated from our day-to-day environment,
we are actually surrounded by it: tasty, healthy and hiding in plain sight.
Nature not only becomes a vast impulse-purchase section, but one
where everything is free and the products are healthy and nutritious. The
lemony tang of wild sorrel, the sour-sweetness of wild plums, the joy of
finally beating the squirrels to a few hazelnuts and the sheer delight of
tasting the first lime blossoms of the year – it's all there for us, it's free,
it's fun and it's absolutely delicious.